"If you like the basic champagne (usually the Brut sans année) of a champagnehouse, you'll be charmed by the rest of the brands" is a saying you hear time and time again when visiting the Champagne region. We've experienced it to be true.
Which doesn't mean we do not have a favourite cuvée from the champagne farmers on our site.
Whether you are an amateur or a connaisseur, we are convinced that our selection of Blancs de Blancs, Rosés, Millésimes, … will tantalise your taste buds.
Marc and Vieux Marc de Champagne is an Eau de Vie made by distilling the pressed grapes into an alcohol of 40%.
It's usually drunk as a "nightcap" after the meal or used in the kitchen to flambé or to make a 'trou champenois' (sorbet soaked in Marc). You can also find it as a praline filling or in chocolate truffles.
Fine de Champagne experiences an extra distillation which intensifies and refines its flavours and aromas.
Très Vieux Marc en Vieille Fine
Très Vieux Marc de Champagne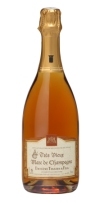 Champagne Diogéne Tissier & Fils

Fine de Champagne
Champagne Dominque Grellet
22, Route d'Epernay
51530 CUIS
Phone: 0033 326 597 969
www