Smaller producers are usually very generous in letting you taste all of their products. We have noticed that the bigger the champagne house, the smaller that generosity becomes. Bigger houses sometimes charge you for tasting, but then deduct this charge when you buy a certain amount of bottles.
Renowned houses always charge for a tasting.
All the more reason why you should thank smaller producers for their generous reception by buying some champagne, if not for yourself, then for friends and family who asked you to bring back some bottles.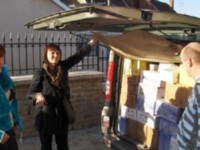 Determine before you leave the amount of bottles that'll fit into the boot, especially when you're not travelling alone. It's most annoying to realise you can't buy anything during your last visit because you overestimated the size of the boot.

If you really can't make up your mind what to buy, you can buy a bottle of each, you don't necessarily have to buy a case of six.

If you buy a couple of cases, the producer will usually show you his appreciation by not only helping you to load them into your boot, but by offering you a present : a champagne stopper, an ice jacket, a champagne bucket, a bottle of Ratafia or an extra bottle of champagne..
How much champagne are you allowed to take home?
A Belgian (private person) can bring home 60 litres of champagne per person, a quota Belgian champagne sellers for obvious reasons would like to see reduced.
60 litres = 80 bottles of 75 cl. This means a couple can buy as much as 160 bottles. Considering their weight you must have quite a sturdy car if you want to load that many bottles.