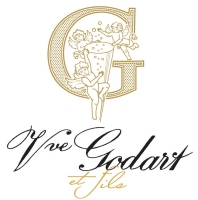 7, Avenue Mont Félix
51530 MOUSSY
Phone: 0033 326 540 436


contact@champagne-vvegodartetfils.com


www


Blog



François Godart
Price range: between 15 and 30 Euros
Hectares : 9 ha
Grape variety: Pinot Noir, Chardonnay, Pinot Meunier
Terroir : Pierry, Moussy, Vinay, Chavot, Bergères-Les-Vertus, Festigny
Production : +/- 70,000 bottles
The style of the house

Familial champagne house loyal to the traditional, artisanal method where the wine dictates the way the winegrower has to follow and not the other way around.
The assets of the house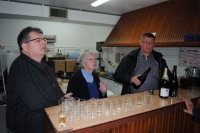 The winegrower receives visitors from 10am to midday and from 2pm to 5pm. There's no need to make an appointment.
You don't have to beg for a glass of bubbles. The winegrower will generously serve you his house style champagne (a composition of wines from several champagne municipalities)
The different cuvées
Discover the flavours and aromas of 51 different parcels, divided over 6 different champagne municipalities.

Brut
The classic house brand is a composition of the 3 known cépages and has matured for 2 years in the cellars. The diversity of aromas and the excellent quality is the constant factor of this house style.
Sec
Identical to the Brut but with a higher level of sugar.
Demi-Sec
Identical to the Sec but with an even higher level of sugar. This champagne goes perfectly with fruity deserts.
Blanc de Blancs
100% Chardonnay
Thanks to a maturing process of three years in the cellars all the noble characteristics of the Chardonnay come out well. The perfect green yellow colour and the subtlety of the pearls in your glass make you wish the degustation would last forever.
Brut Rosé
Successful harmony between the traditional house style and red wine from the Champagne region. After having matured for two years in the cellars, this Rosé amazes the eye as well as the taste buds.
Extra Dry
A composition of the three cépages. The Pinot Meunier is predominant and, together with a low sugar level, provides freshness and balance
The result is an all-round champagne.
Brut Vieille Réserve
30% Chardonnay, 10% Pinot Noir and 60% Pinot Meunier.
This nectar has matured for 4 years in the cellars and combines body, finesse and suppleness. A superb champagne with a lot of maturity, to be drunk on very special occasions.
Extra Cuvée
1/3 Chardonnay , 1/3 Pinot Noir and 1/3 Pinot Meunier.
The perfect balance between the three Champagne grape varieties. This exceptional blend is the perfect aperitive but is also ideal to accompany any meal.
Cuvée selected by the magazine 'Sommeliers International'.
Coteau Rouge Champenois
Red wine , 100% Pinot Noir.
A nose with aromas of red fruit, flowers and smoked notes.
The mouth is round and powerful with spicy undertones.
Coteau Blanc Champenois
Who is the winegrower?
If I hadn't been a winegrower … I would have become a monk in the Norbertine abbey of Mondaye in Normandy

A superb champagne is … a wine that touches you with its exceptional quality and makes you feel you're alive.

The vineyard I would like to own… some parcels in Verzenay

My favourite beer … Westmalle

The biggest mistake I've ever made … ot to believe in the future

The best combination champagne /dish is … a Blanc de Blancs with a carpaccio of scallops

What makes me shiver … indifference

My biggest wish … world peace and close cooperation between the rich and the poor countries

My favourite spot … Mont-Saint-Michel, 'between heaven and earth'