"Although you see more cars with a foreign than with a French licence plate during weekends, the hotels in the Champagne region are few and far between. It's very important to find a place to stay before you define the itinerary to the producers."
Where to stay
Hotels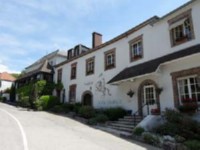 Most hotels are located in the three main cities in the region : Reims, Epernay and Châlons-en-Champagne.
Reims is the biggest city, Epernay is the capital of 'le champagne' (the wine), Châlons-en Champagne (or Châlons-sur-Marne) is the capital of 'la Champagne' (the department). These three cities are the perfect starting point for all your excursions.
Châlons-en-Champagne lies just outside the wine-growing area (20 miles from Epernay), which makes Reims and Epernay the perfect places to spend the night. If you want to experience life outside the hotel walls, Reims is the place to be.
It's a lovely city with historic points of interest, beautiful squares, traffic free streets and …cosy bars.
Most hotels advertise tasty champagne arrangements with exquisite menus.

You can find an extensive offer of arrangements in "Where to sleep" and "Links"
Bed and breakfast (Chambre d'hôtes)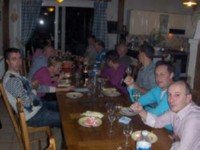 We like to stay the night in a bed and breakfast, and preferably in a "table d'hôtes", where they also serve a meal in the evening and you can drink one more glass of champagne, since you don't have to drive anywhere.
Some winegrowers have guest rooms, where you wake up with a splendid view over the vineyards.
Even a lot of non-producers offer guest rooms where you can enjoy the same relaxed atmosphere as at the winegrower. And they have more than enough champagne in their cellars. The only disadvantage is that they usually offer champagne from a befriended winegrower. This makes the price for a bottle 5 to 10 Euros higher than at the winegrower himself. They make up for the difference with their impressive guest rooms and by offering other facilities such as a swimming pool, jacuzzi, children's farm, petanques, table tennis,...

We know from experience that more and more weekend tourists book the night in a bed and breakfast. So book your room in time.
It's no wonder that the 'chambres d'hôtes' are so successful
- you meet countrymen or people from other nationalities in a relaxed atmosphere and exchange experiences about producers you visited
- all "chambres d'hôtes" we have visited so far had splendid rooms with all modern conveniences
- A producer who lets guestrooms will show you around his cellar and introduce you to his cuvées
- Most producers keep filling your glasses during supper. Do you want to taste some more? The price of a nicely chilled bottle is the same price you pay for champagne to take home. So what are you waiting for?.
- The price : there are "chambres d'hôtes" for 55 Euros a night for a double room, breakfast included.
In the menus "where to sleep" and "links" you can find an extensive list!

See also "Where to sleep" and "Links"