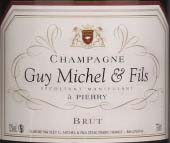 54, Rue Léon Bourgeois
51530 PIERRY
Phone: 0033 326 546 712
Phone: 0033 326 540 317


guymichel.champagne@orange.fr




In 1959 Guy Michel founded his champagne house, he was the 4th generation. The first generation of champagne makers started in 1847.
Price range: between 14 and 21 Euros (33 Euros for the special Millésimes)
Hectares : 22 ha
Grape variety: 15% Pinot Noir, 35% Chardonnay, 50% Pinot Meunier
Terroir : the valley of the Marne
Production : +/- 100,000 bottles
House style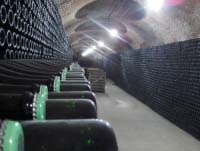 A passion for old wines and a yearning for continuous quality.
The assets of the house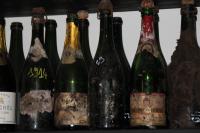 Guy Michel likes to share his passion for old Millésimes with kindred spirits. Every year his marvellous cuvées score a success in the Guide Hachette.
The different cuvées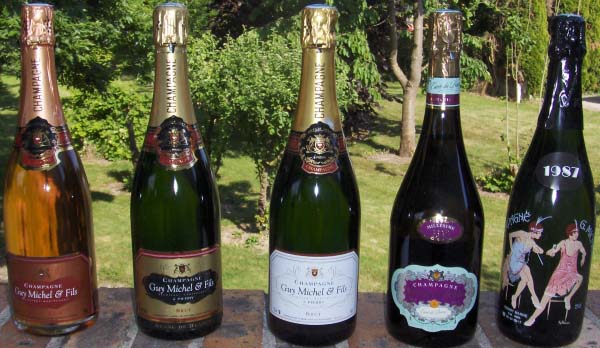 Brut Cuvée Réserve (bestaat ook in Demi-Sec)
10% Pinot Noir, 55% Chardonnay and 35% Pinot Meunier
A tasty champagne that can be drunk at all occasions.
Blanc de Blancs
100% Chardonnay
The perfect aperitive and ideal with fish.
Brut Rosé de saignée
50% Pinot Meunier and 50% Chardonnay
As an aperitive or with dessert, a marvellous rosé par macération with a delicious, fruity acidity.
Paris Folies
10% Pinot Noir, 70% Chardonnay and 20% Pinot Meunier.
Discover grilled aromas, mint and honey. A beautiful champagne in an equally beautifully decorated bottle.
Millésimé 1998
20% Pinot Noir, 50% Chardonnay and 30% Pinot Meunier
Round, delicate bubbles with aromas of grilled coffee and compote.
Millésimé 1993
10% Pinot Noir, 50% Chardonnay and 40% Pinot Meunier
The keywords of this beautiful cuvée are harmony and suppleness.
Millésimé 1989
10% Pinot Noir, 50% Chardonnay and 40% Pinot Meunier
A rich, supple champagne with complex aromas. A champagne for connoisseurs.
Millésimé 1988 saveur d'automne
30% Chardonnay and 70% Pinot Meunier
Fresh, floral bubbles with aromas of almond and brioche.
Millésimé 1982
30% Chardonnay and 70% Pinot Meunier
Rare, elegant class! A spicy champagne for a special moment.
Vieux champagne liquoreux 1979
100% Chardonnay
Fruity wood aromas and flavours of mocha and honey. Delicious with foie gras.
Coteaux Champenois Rouge
100% Pinot Meunier
Supple red wine with a light wood flavour and aromas of red and black berries.
Who is the winegrower?
Guy Michel

If I hadn't become a winegrower… There was no alternative, I had to follow in the footsteps of my father.

A superb champagne is… A champagne that is very mineral, at least 10 years old and made of the 3 known grape varieties.

The best year was… 1959. A good year is hard to predict. If you are patient, a mediocre year can grow into something beautiful (1987 and 1988). Perhaps the best year lies in my cellar, but I haven't discovered it yet.

A year to forget… 1984 was an awful year. We had to take nearly the complete harvest to the distillery.

My favourite champagne… An old Bollinger, or an old Krug.

My favourite wine… Médoc

My favourite season… Winter, because there's less work.

The best combination champagne dish is… Old champagnes with red meat.