The Champagne region is very popular with tourists. Although there has been an increase in the number of hotels and chambres d' hôtes in the region, it's not always easy to find a vacancy.

You'd be well advised to book some time in advance !!!

This page will guide you to a selection of chambres d' hôtes, wich we've already visited, from chic and luxurious to simple and reasonably priced.
We've tried a couple of the addresses and were pleasantly surprised. You will find those here below.
A nice link in order to find B&B accomodation in the Champagne region
If you want to book the perfect B&B to stay,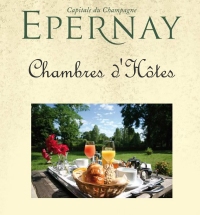 this guide is top of the bill.
La Loge
5km from Epernay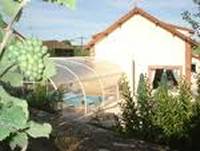 La Loge
51530 Moussy (D10, from Epernay to Mancy )
Phone: 0033 326 59 73 62.
www
Stay at the house of champagne producer Marcel Richard in one of the five beautiful rooms. You can have supper there and there are numerous ways to relax: table tennis, swimming pool and TV-lounge.
Their champagnes: Brut Tradition (70% Pinot Meunier, 25% Chardonnay, 5% Pinot Noir), Cuvée Prestige (100% Chardonnay), Rosé d'assemblage, Cuvée Spéciale (Millésime), Demi-Sec, Cuvée Fut de Chêne (Millésime which has ripened for 6 months in oak barrels).
Le Domaine du Château
5km from Epernay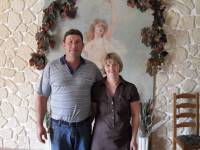 2, Route d' Epernay
51530 Cuis
Phone: 0033 326 59 79 69 or 0033 326 59 37 90.
Mobile: 0033 688 07 64 84.
www
Winegrowers Dominique and Catherine welcome you in one of their marvelous guestrooms or spacious gîtes. Catherine cooks supper and the four course meal is accompanied by their champagne, Ratafia and Fine de la Marne.
The different cuvées: Cuvée de Réserve (100% Chardonnay), Brut Tradition (50% Chardonnay + 50% Pinot Meunier), Brut Rosé (mixture of 1/3 Chardonnay, 1/3 Pinot Meunier and red wine)
Guy Charbaut
8km from Epernay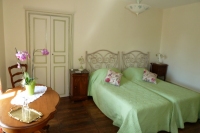 12, Rue du Pont
51160 Mareuil-Sur-Aÿ
Phone: 0033 326 52 60 59
www
Mail: contact@champagne-guy-charbaut.com

Five charming rooms with every comfort that are furnished with respect for the magnificent property, dating from 1837. From some of the rooms you have a beautiful view on the garden and the canal that runs along the Marne. In the evening you can enjoy supper in an old champagne storeroom. All meals are generously accompanied by the excellent champagnes Guy Charbaut. A highly recommended address!
Castelger
8km from Epernay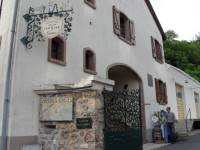 10, rue Henri Martin
51480 Vauciennes.
Phone: 0033 326 58 42 38
www
From the skylight of this chambres d' hôtes (table d'hôtes only on reservation) you can enjoy the marvelous view over the valley of the Marne and the charming?) 16th century church of Saint Léger.
Champagne Castelger has an extensive selection of cuvées:
Rosé de saignée, Rosé d'assemblage, Blanc de Blancs, Cuvée Vieille Vignes Blanc de Blancs, Blanc de Noirs, Brut Réserve, Brut Nature non-dosé, … and Ratafia, Marc and Fine de Champagne.
Eric Isselée
8km from Epernay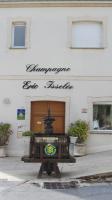 350, Rue des Grappes d'Or
51530 Cramant
Phone: 0033 326 57 54 96
www
Stay the night at a producer amidst the Grand Cru vineyards of the Côte des Blancs. Taste the different Cuvées and enjoy the unique captivating panoramic view.
The cuvées : Grande Sélection (70% Chardonnay, 30% Pinot Noir), Cuvée Romane Rosé (rosé d'assemblage), Brut Blanc de Blancs, Cuvée de Réserve (100% Blanc de Blancs), Grand Cru (100% Blanc de Blancs), Cuvée Tradition (Millésime Blanc de Blancs), Cuvée Clément en fût.
Henry de Vaugency
11km from Epernay
1, rue d' Avize
51190 Oger
Phone: 0033 326 57 50 89
www
You can stay in one of the two carefully kept rooms of champagnehouse Henry de Vaugency. You can taste the different Grand Crus (all 100% Chardonnay but of a different age) in an authentic cellar or pay a visit to Musée du Mariage.

Chez Mamie Colette
12km from Epernay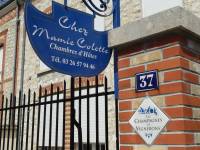 37, Av. République
51190 Le Mesnil Sur Oger
Phone: 0033 326 57 94 46.
Chambres d' hôtes in the heart of the Côte des Blancs which has its own champagne: J. Moussy – Mary.
Mamie Colette welcomes you with a smile, lets you savour her speciality 'le gâteau au champagne' and proudly shows you her personalized labels of Johan Museeuw. After he won Paris – Roubaix, he bought champagne from Mamie Colette.
La Ferme de Baladin
20km from Epernay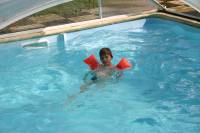 16, Grande Rue
51130 Rouffy
Phone: 0033 326 64 48 30
www
The place to be for horse lovers or families with kids: there are bikes at your disposal, a swimming pool, a petanque court and lots of room to "horse" around.
The rooms are very nice and the manager is a former chef who still knows how to cook an excellent meal.
Dans les Vignes
20km from Epernay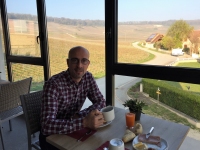 9 Rue des Prés Eloy
51500 Chamery
Phone : 0033 6 83 02 94 68 / 0033 6 83 66 60 82
Mail: Champagne.bonnet.ponson@wanadoo.fr
This marvellous B&B (which seems like a hotel) was built by Champagne Bonnet-Ponson in the middle of the Chamery vineyards.
When you draw the curtains in the morning, you see the vines. A breath-taking view!
There's also a small restaurant if should you get hungry.
Isabelle et Bruno Maillard
21km from Epernay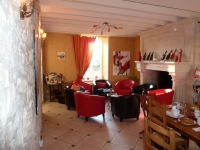 38, Rue de Champagne
51130 St Mard-les Rouffy
Phone: 0033 326 66 45 03
www
Spend the night at the house of a considerate young couple in rooms with all modern conveniences. After visiting the local producers, you can dive in the pool, relax in the jacuzzi and, only on reservation, have supper with the other guests. This winegrower works together with the Coöperatieve of Avize.

La Demeure Saint-Martin
23km from Epernay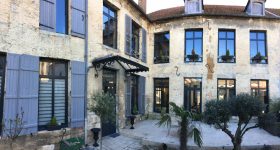 10 Rue de l'Église
51130 Vertus
Phone 0033 7 68 82 46 72
e-mail : demeure.saint.martin@gmail.com
Website :www

Spend the night in the stylishly renovated remains of a Renaissance castle. The rooms are lovely, the breakfast is extensive and well-cared-for, there is a sports and relaxation room, there is a jacuzzi in the garden, you can park your car in the walled courtyard and ... you can enjoy the champagnes of Charles Pougeoise, owner of this fantastic property.

See also: links for more chambres d'hôtes.